The Premier League has arguably never been more competitive than it is this season, with just three points separating the division's top five teams.
Manchester City sit top of the table on 28 points, with Liverpool and Arsenal one behind on 27, Tottenham on 26 and Aston Villa on 25.
It is the first time in Premier League history that five teams have amassed 25 points or more in their first 12 matches.
How things look at the top going into the international break pic.twitter.com/ZmL1PQVZR3

— Premier League (@premierleague) November 12, 2023
However, the level of competition extends beyond the top few sides, as demonstrated by several of the weekend's results including City's thrilling 4-4 draw at Chelsea and Spurs' injury-time loss at Wolves.
Just 12 matches into the 2023-24 campaign, it is already possible to create a continuous 'victory loop' from English top flight results.
A victory loop is made by arranging results so that Team 1 beats Team 2, Team 2 defeats Team 3, and so on until Team 20 beats Team 1.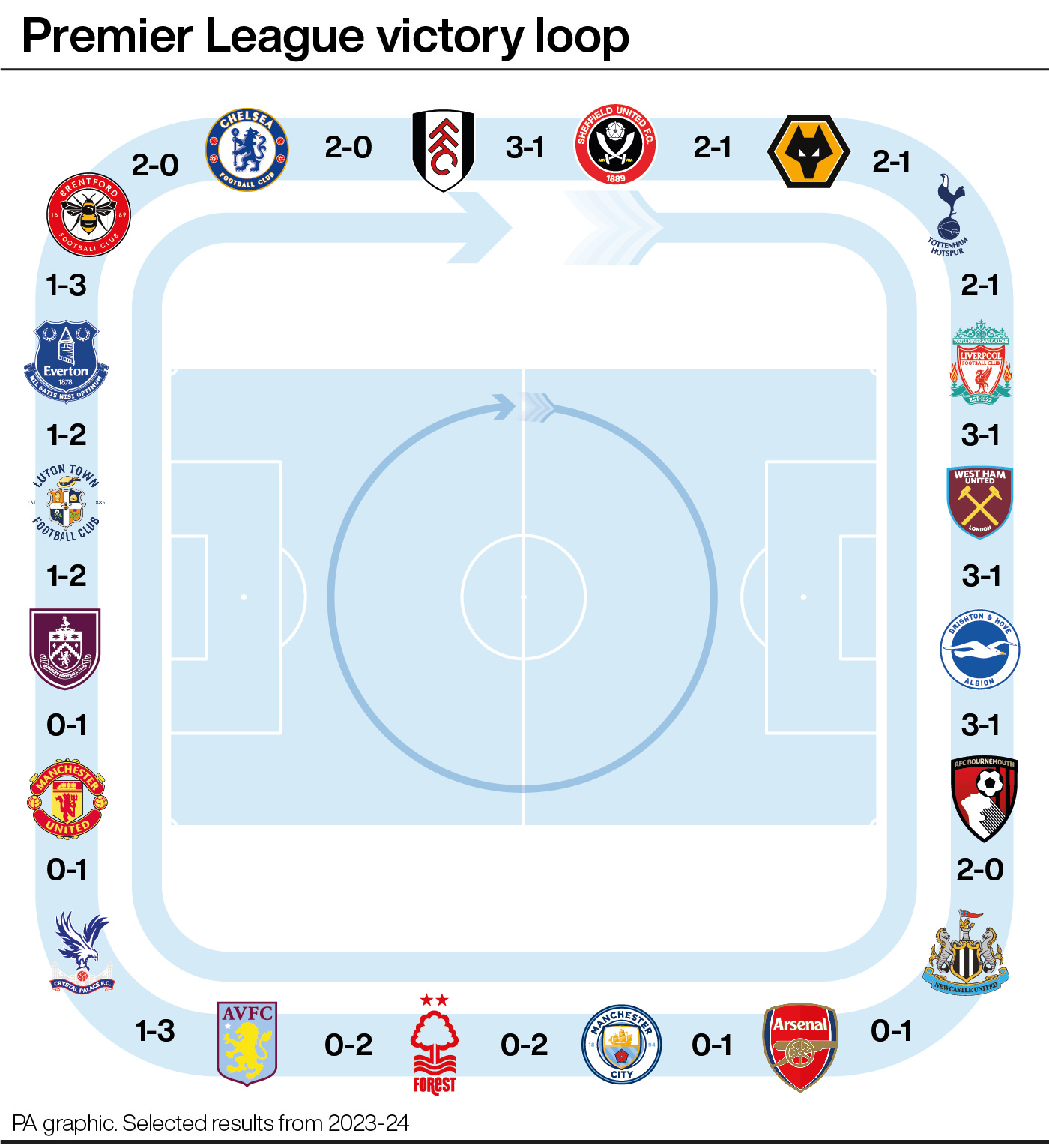 Sheff Utd 2 Wolves 1 (Nov 4)
Wolves 2 Tottenham 1 (Nov 11)
Tottenham 2 Liverpool 1 (Sep 30)
Liverpool 3 West Ham 1 (Sep 24)
Brighton 1 West Ham 3 (Aug 26)
Brighton 3 Bournemouth 1 (Sep 24)
Bournemouth 2 Newcastle 0 (Nov 11)
Newcastle 1 Arsenal 0 (Nov 4)
Arsenal 1 Man City 0 (Oct 8)
Man City 2 Nottingham Forest 0 (Sep 23)
Nottingham Forest 2 Aston Villa 0 (Nov 5)
Aston Villa 3 Crystal Palace 1 (Sep 16)
Man Utd 0 Crystal Palace 1 (Sep 30)
Burnley 0 Man Utd 1 (Sep 23)
Luton 1 Burnley 2 (Oct 3)
Everton 1 Luton 2 (Sep 30)
Brentford 1 Everton 3 (Sep 23)
Chelsea 0 Brentford 2 (Oct 28)
Fulham 0 Chelsea 2 (Oct 2)
Fulham 3 Sheff Utd 1 (Oct 7)