Jurgen Klopp has described Sadio Mane as "world-class" and suggested that having time to rest after last season has played a key role in his recent form.
The Liverpool forward is joint-second in the Premier League scoring charts along with Leicester City's Jamie Vardy on seven goals, only team-mate Mohammed Salah has more (11).
After four fantastic seasons at Anfield, Mane was not at his peak in 2020-21. Though he still finished on 16 goals in all competitions, that tally was his lowest since his first campaign with Liverpool (13 in 2016-17).
However, Mane now seems back to his brilliant best and, ahead of facing the Senegal forward's former club Southampton, Klopp predicted another excellent campaign for the 29-year-old as long as he can stay clear of injuries.
"I think we can judge Sadio as an individual, as a world-class player. It's not [that we judge him] against Mo Salah or whatever," the Reds' boss told reporters at Friday's news conference. 
"You see the numbers. Mo has 108 goals [overall in the Premier League] and Sadio has [102] most of them for Liverpool, but obviously some with Southampton.
"So it just shows – they are in a similar age group – what those two guys did in the last few years for us. We don't make a difference there between the two.
"Sadio is a very confident person and knew, we all felt it on the first day of pre-season, after a proper break, he was completely 100 per cent there. It was clear.
"It was obvious that if he was lucky with injuries it would be a really good season for him because that is the quality he has. And that is what he shows now.
"So I cannot say enough how important it is for these players to have a proper break – I will speak about that until the next 20 years, but the authorities will not change it.
"That is really tough for the boys. But this year Mo and Sadio had a proper break and at the moment, so far, we are getting the benefit of that."
Mane has nine goals in 17 games in all competitions for Liverpool this season, with a shot conversion rate (excluding blocks) of 31.03 per cent, which is just shy of Salah (35.42 per cent). He has created 18 chances, half that of Salah (36) but has also made 43 recoveries, just three short of the Egyptian's 46.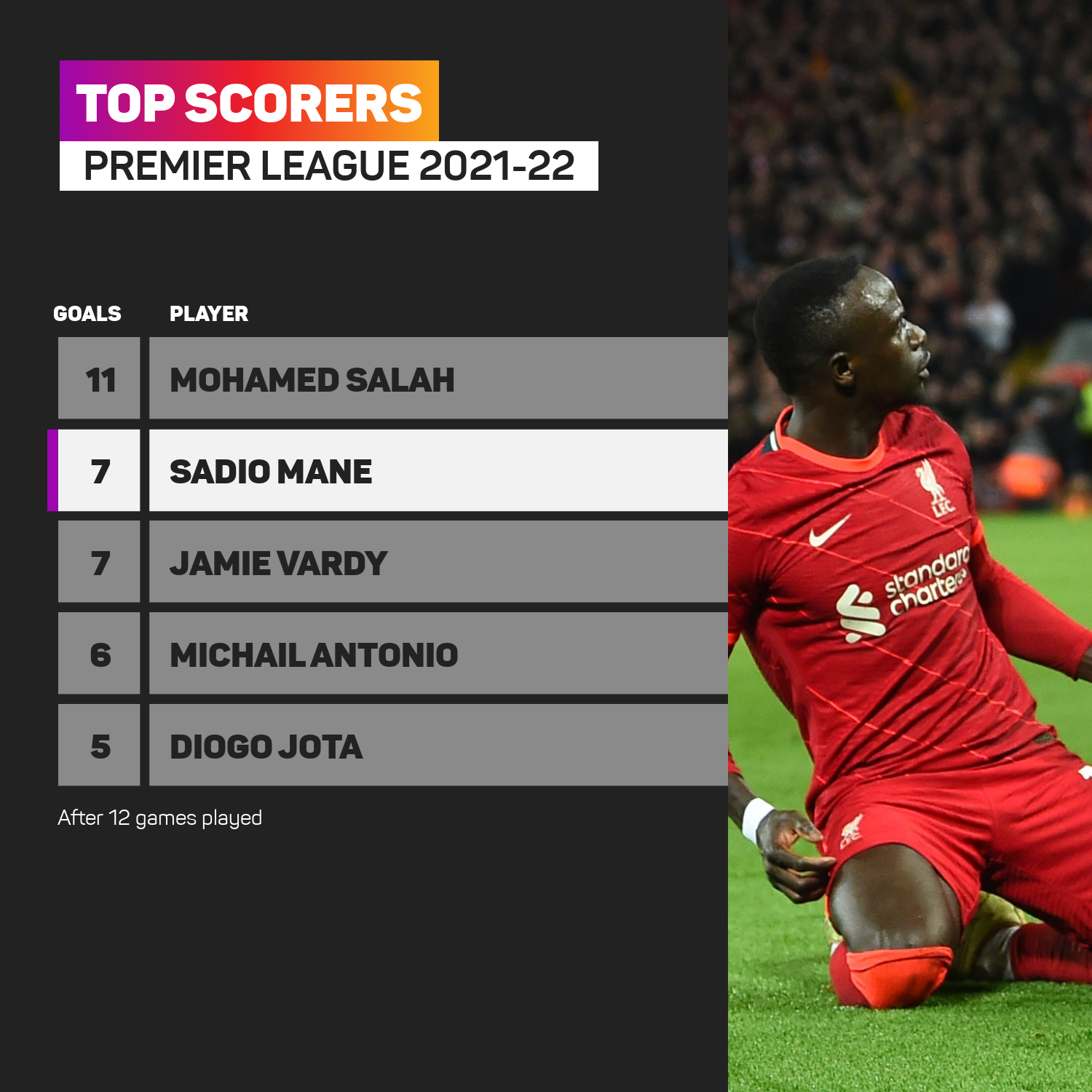 Klopp was also asked about recent games against Atletico Madrid and Arsenal in which he suggested the opposition targeted Mane, with the German getting particularly animated with Mikel Arteta during last week's 4-0 win against the Gunners.
"Oh yes, we have [spoken], but for sure for much longer it was a thing, even when it was not obvious to the outside," he added. "You can see it in games they go for him because they want to wind him up, even if it is not that obvious.
"He's not that emotional any more, but we all need emotions obviously and sometimes we control them better and sometimes less and yes, we've had these talks of course, but that was not about that.
"It had nothing to do with these situations, I really don't think it had anything to do with the situation against Arsenal, it was pretty much nothing, a normal challenge.
"It was obvious and against Atletico Madrid, they had the red card [for Felipe] and you will remember directly after the next situation a player went down and made more [of the challenge] just to make sure they get our player sent off or yellow card, so that is what I was talking about.
"The headline is 'we pay back with football'. Whatever we do, we pay them back with football."