Pep Guardiola felt Manchester City showed they learnt their lesson from the September defeat to Paris Saint-Germain as they defeated the Parisians 2-1 on Wednesday.
City secured top spot in Group A thanks to the victory, becoming just the second English club to win their group in five successive seasons in the competition's current format.
They had to do it the hard way as PSG took the lead through Kylian Mbappe early in the second half.
Raheem Sterling cancelled that out and then substitute Gabriel Jesus got the winner, making it the first Champions League match PSG have ever lost after opening the scoring themselves in the second half.
For a while, the match followed a very similar pattern to the two teams' first meeting of the season when PSG won 2-0 – once again City created comfortably the better chances, only to somehow be level at the break.
But while City failed to score despite racking up 1.9 expected goals (xG) in Paris and PSG netted twice from 0.46 xG, Guardiola's men saw their 2.09 xG in this one match up nicely with two strikes at the Etihad Stadium.
They were clinical, and that pleased Guardiola.
When it was put to him that the game was resembling the September meeting, Guardiola told BT Sport: "That's true, that's true. That's why it's a good lesson.
"You are losing – okay, you have to continue. It's 90 minutes, more than 90 minutes, you have to continue.
"The games are long, we knew the draw was a good result for us, but fortunately in the end we won.
"We did again a good performance like the first game. Unfortunately, in the first half we couldn't convert the chances and after the goal, we suffered, but after that, with our people [fans], thank you so much to the people for coming, it was a lovely night for us."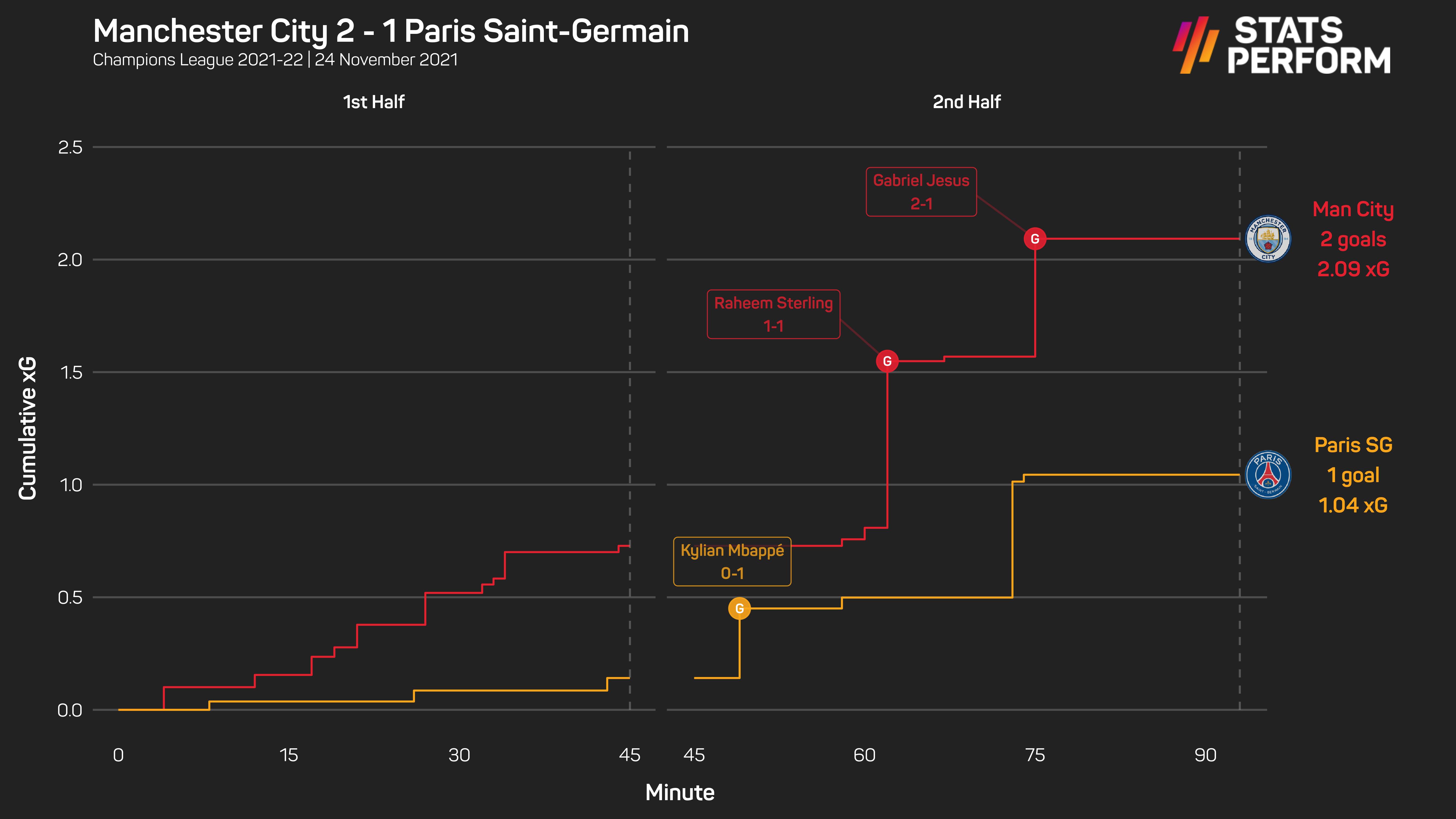 PSG's famed front three of Mbappe, Neymar and Lionel Messi only mustered five shots between them, with the Parisians' overall xG total kept to a relatively low 1.04.
Of course, they hardly needed a sniff at the Parc des Princes, but Guardiola was generally pleased with how City coped this time.
"I always believe with these players that the further they are from our goal, we are safer," he added. "The closer they are, they find spaces.
"Look at the action when Neymar was through on the goalkeeper and mishit. They create from nothing.
"They are too good up front, and we had to defend as a team. If you believe one guy is going to solve the quality they have, it's impossible.
"We were there with good composure and at the end, I don't know the stats but I think we were brilliant again today and that's good for us."